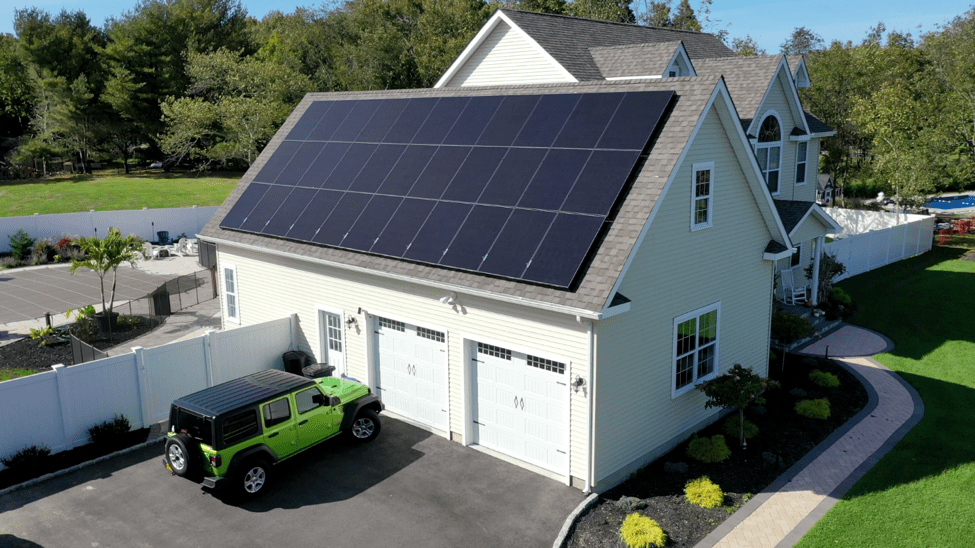 When homeowners think about why they should switch to solar energy, savings and affordability are the first things that comes to mind. With solar panels more affordable than they've ever been, now is the perfect time to make the switch, but it's not the only reason.
Solar Energy is Here to Stay!
Far from being a trend, solar energy is quickly becoming the future. Already, over 2 million homes in the United States have solar panels and New York alone recently reached 3GW of solar in July 2021, according to the New York State Research and Development Authority (NYSERDA). When it comes to clean, renewable solar energy, NY's solar growth is up over 2,100%, according to NYSERDA, with the cost of solar down by 69% since the launch of the NY-Sun Initiative. That's a lot of savings.
Why Benefit from Solar Panels Now?
#1 Reduce Energy Costs
Going solar can drastically reduce or even eliminate your electricity bills. With a solar panel system, you can generate clean, sustainable energy for your system's entire lifespan of 25+ years. Excess energy is banked as energy credits that are applied towards your electric bill, saving you money and even putting money back into your pocket. Based on your energy consumption and the size of your solar system, your electric costs can decrease by as much as 50%-100%!
#2 Environmental Benefits
Solar energy offers a clean, green method of tapping into a natural and renewable resource, the sun. As more people switch to solar energy, we decrease our dependence on traditional electricity from the grid which generates air pollution through the burning of fossil fuels. In addition to cleaner air, solar energy generates less water pollution than what you'd see produced from a carbon-emitting power plant. Cleaner air and water aren't just good for the environment, they're good for humans, too.
#3 Increase Property Value 
With a heightened demand for sustainable energy sources, adding solar to your home increases its value. According to a Zillow Study, homes in New York with solar panels sell for about 5.4% more than houses without solar panels. Of course, the exact amount will vary depending on the size of each home's solar system. Whether you plan to stay in the neighborhood or move in the future, solar is a good investment for your property value.
#4 Emergency Preparation 
When you add an energy storage battery to your home solar system, you can still have power even when the utility company's grid goes down during an emergency or storm. Day or night, storage batteries, like the Tesla Powerwall, store extra electricity generated by your solar panels that can seamlessly turn on as a temporary backup supply when needed.
Combining solar and storage allows you to get the most out of your renewable energy system and keep the power on. Gone are the days of relying on flashlights, hazardous candles, or noisy generators.
#5 Low Maintenance  
Once your solar panels are installed they are easily maintained throughout the years. So easy, in fact, that you don't have to do a thing apart from monitoring your system. By regularly checking your system for performance, you can stay on top of your panels' productivity. You can either monitor energy output on your own or select this additional service from SUNation. Contact our Service Department for details.
To keep your solar panels in top condition, solar pest guards are available as an add-on from SUNation to keep debris and small animals out from underneath your panels. This simple and decorative feature protects your system's panels and wiring and gives you peace of mind.
#6 Great Return on Investment 
Solar is one of the best investments you can make. On average, homeowners with solar see a return on their investment (ROI) of 20% or more. Most solar panel systems pay for themselves multiple times over the course of their lifetime.
#7 New York State and Federal Tax Credits
Did you know you may qualify for current state and federal tax credits when you switch to solar energy right now? For homeowners in New York State specifically, there are a few options just for you:
New York State Solar Tax Credit Incentives in 2021
NY Personal Tax Credit: There is a personal tax credit for 25% of the system cost, capped at $5,000, for residential and multi-family homes. The maximum system size eligible for this tax credit is 25 kW for residential homes and 50 kW for systems owned by a condominium or cooperative housing associations.
0% Sales Tax: Solar energy is 100% exempt from sales tax.
Property Tax Exemption: 100% exemption for 15 years
New York Sun PV Incentive Program: For installers and contractors, NYSERDA currently offers a rebate for PV systems 25kW or less, for residential sites in any region. If it is a nonresidential site, it must be in PSEG Long Island regions up to 750kW or Con Ed regions up to 7.5MW.
Federal Solar Tax Credit Incentives in 2021
New York homeowners also find federal solar tax incentives to be beneficial in reducing the cost of your solar installation, while they last. These tax credits can be combined with the New York State tax credits and incentives mentioned above for maximum savings and can be used to cover the cost of solar panels, installation, and additional equipment required for your system.
It's very important to note that this particular tax credit decreases over time. Those who switch to solar energy now can receive up to a 26% federal solar tax credit. This amount is set to decrease in 2023 to 22% and be eliminated altogether by 2024. By switching to solar energy now, you can take advantage of these higher tax credits before they vanish. Why pay more when you don't have to?
Sign Me Up for Solar Energy!
Now is the perfect time to power your home with clean, renewable solar energy from SUNation Solar. For additional savings, ask about our current promotion for new customers or our referral program for existing customers.
Talk to a SUNation Solar Specialist today at 631-750-9454 or schedule a visit online at SUNation.com/book-a-consultation.