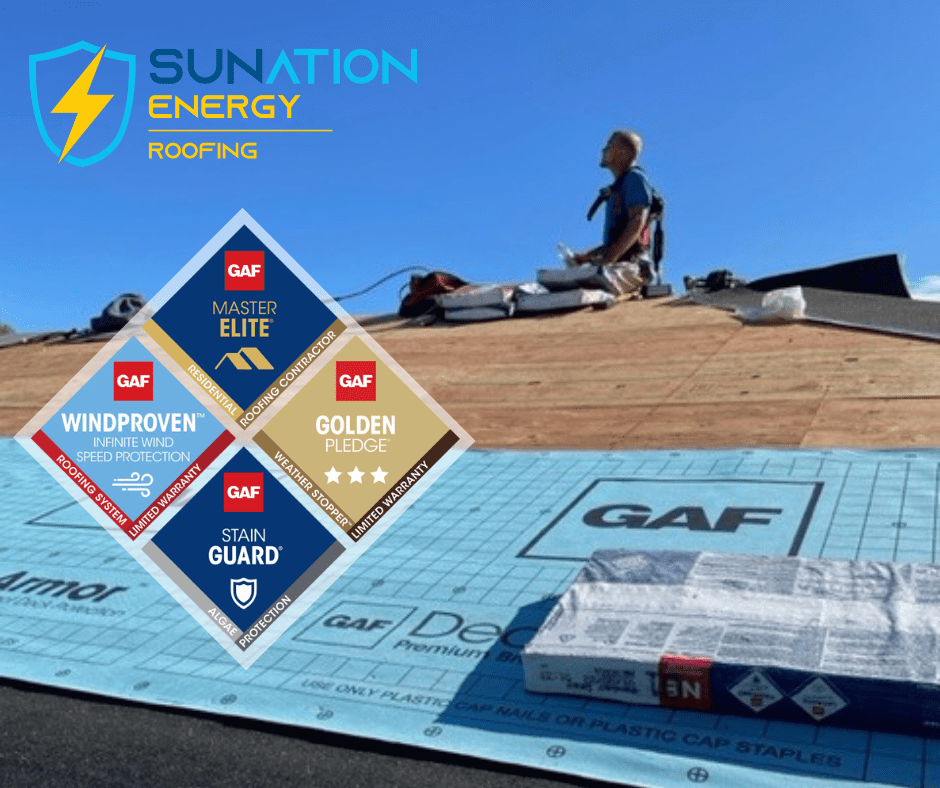 Less than a year after it's official launch in the Fall of 2022, SUNation Roofing, the newest department and service offered by SUNation Energy, is now GAF Master Elite Certified to provide the best in roofing repair and replacement services. This certification not only cements SUNation as leading installers, but opens the door for expanded opportunities with GAF Roofing, like their Golden Pledge Warranty with even more protection for homeowners.
The addition of a roofing department to SUNation's list of services, like solar, battery backup, and EV charging, has given homeowners the convenience and security of getting all their home energy solutions from one location and one locally trusted team, and has decreased the need to deal with multiple contractors and processes. As a home's roof condition is one of the factors that go into determining whether a house is ready for a solar installation, being able to provide roof repairs or a full roof replacement has also helped to combine both home projects, savings New Yorkers both time and money.
About GAF Roofing
As SUNation is dedicated to providing the best products and services with the best possible customer experience, so in continuation of that effort, partnered with the leading roofing company in the country. GAF Roofing is a nationally recognized business that's been protecting what matters most since their beginnings in 1886. Between their proven, reliable products and their dedication to sustainability, they've been amazing partners in helping the SUNation team get Long Island homes ready for solar.
Included with a GAF Roofing installation by SUNation Roofing is a leak barrier, roof deck protection, starter strip shingles, GAF shingles, attic ventilation, and ridge cap shingles to give the roof a finishing touch.
If a home's roof is over 15 years old or otherwise experiencing signs of aging or disrepair, a roofing consultation is highly recommended, whether or not you plan to switch to solar energy.
What Is A Master Elite Certification?
Reaching GAF Master Elite Certification status is the highest level of certification for roofing in the industry. Not only does the contractor need to be properly insured and licensed, but they must meet several requirements to attain this designation including continued education and training to meet GAF's standards, excellent standing with the Better Business Bureau, and a proven track record of roofing installations.
Overall, only about 2% of roofing companies in the United States are Master Elite roofers. SUNation Roofing recently was elevated from GAF Certified to GAF Master Elite Certified in February 2023.
What Are The Benefits Of A Master Elite Roofer?
Some of the benefits of being a GAF Master Elite Certified roofing contractor are the additional opportunities that are available to homeowners.
Peace of Mind
In choosing a Master Elite roofer, homeowners can feel confident they are getting the best qualified roofing professionals to work on their home. Through continued training through GAF's program, installers are kept up to date with the latest products, installation methods, and other innovations to provide top-of-the-line roof installations.
Golden Pledge Warranty
As the best roofing warranty in the industry, the Golden Pledge Warranty is available exclusively to GAF Master Elite roofers and provides the best coverage for homeowners. With a lifetime warranty for GAF shingles and a 50-year Smart Choice Protection Period, the Golden Pledge level also provides 25 years of coverage for workmanship, 30 years for Timberline UHD shingles, the company's most popular shingles. By comparison, the Silver Pledge Warranty offers 10 years of workmanship coverage.
GAF's Best Roofing Products
Master Elite roofing contractors also gain access to the best roofing materials GAF has to offer. This gives homeowners even more options to find the roofing solution that works best for their home and that's built to last.
Getting Solar Panels With Your Roof Replacement
One of the best times to switch to solar energy is when the installation is combined with a new roof. As roofs often need replacement or repairs after 15 years, getting solar panels first only to take them down for a roof installation, then have the panels reinstalled is not only a waste of time, but a waste of money. Combining roofing and solar installations, especially with the same company, provides homeowners with a more cohesive installation process with as few interruptions as possible.
Solar installations can also benefit from current tax credits. Homeowners may qualify for a 30% Federal tax credit when they go solar in addition to a New York tax credit up to $5,000. Homeowners should consult their tax advisor or accountant to see if they qualify for this money-saving opportunity.
SUNation For Your Solar and Roofing Needs
To learn more about SUNation Roofing's GAF Master Elite Certification, Golden Pledge Warranty, and how going solar can help save homeowners on their monthly electricity bill, contact the friendly team at SUNation for a no-pressure, no-obligation consultation.
Simply call 631-750-9454 or book an appointment online today to get started.