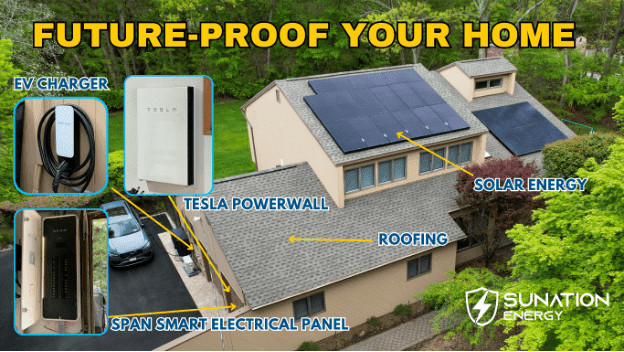 As electricity costs continue to rise nation-wide, homeowners are seeking ways to future-proof their homes against increasing expenses. While it may seem like so much is beyond your control, there is a way to take control of your energy costs, and that's with a solar energy installation.
With solar panels, not only can homeowners reduce their reliance on the power grid, but they can also keep their energy costs down while reducing their carbon footprint and making the planet a greener place for future generations. Solar, however, isn't the only option when it comes to reducing costs and taking control of energy use. By implementing the entire sustainable energy home package, or even just a few of these sustainable options, homeowners can get the most out of their system and be ready for whatever the future brings.
Rising Energy Costs in The U.S.
Across the country electricity costs have been steadily increasing, especially in recent years, putting a strain on household budgets. Factors such as inflation, maintenance required for aging infrastructures, and the rising demand for electricity (consider how many appliances and electronics you have plugged in right now) all play a role. Unfortunately, it doesn't look like any of these influences are letting up any time soon, prompting more electricity cost increases ahead.
Looking back on energy rates from the last 25 years, . If you look at the past two years alone, that percentage goes up to 11%. While this news can seem daunting, making the choice to switch to cost-effective, green energy solutions like solar energy can give homeowners options to shield themselves from continued energy increases and keep their monthly costs low year-round.
Sustainable Solutions For A Future-Proofed Home
Solar Panels
One of the most effective ways homeowners can take control of their energy, and electricity costs, is by relying more on clean, renewable solar energy and less on the power grid. A home's solar array generates energy from the sun's rays and works year-round including clear, cloudy, and even rainy days. The more energy that's generated from your system, the lower the energy bills will be each month. Through a system called Net Metering, energy credits can be earned on days the system is creating more energy than the home is using. These credits can then be used to offset energy costs on days where home energy use exceeds what's being produced, like during the summer months.
Making the switch to solar energy on Long Island is a cost-effective process thanks to the availability of current solar incentives. For solar panels installed now through 2032, homeowners may qualify for a 30% Federal tax credit. New York State homeowners can additionally qualify for a state solar tax credit up to $5,000. Talk with your financial advisor or tax advisor about these money-saving opportunities.
Roof And Solar Installations
To further save homeowners money, and time, the home's roof should be evaluated to determine whether repairs or a full roof replacement is needed. Roofs over 15 years old or more may need to be replaced prior to a solar installation. Getting both home improvement projects completed at the same time, especially by the same company, can be the best way to support the new solar panels while protecting what matters most.
Energy Storage With Tesla Powerwall Batteries
Looking into the future, energy storage with backup batteries like the Tesla Powerwall can play a major role in helping homeowners get the most out of their solar energy. The energy batteries work to store excess solar energy which can be used in emergency situations, like when the power goes out during a blackout or brownout. With the free app, homeowners can track how much energy they have stored, how many hours of energy they have left, and get alerts when the battery is charging in preparation for a storm. When everyone else is wandering around in the dark, Long Island homes with the Tesla Powerwall will be the shining examples of what solar and energy storage can do together.
EV Charging With Solar Energy
For homeowners with electric or hybrid vehicles, adding a home EV charger to their sustainable energy system can also help keep fuel costs down. With a Level 2 EV charger, not only can vehicles charge at a faster rate than a standard Level 1 charger, which usually comes with the electric vehicle, but when combined with solar energy, vehicles can be charged using the sustainable energy from the sun instead of grid-powered chargers. The added convenience of charging overnight at home rather than searching for a public charging station, with fluctuating prices, makes this an effective way to gain piece of mind and continue to lower energy costs.
The SPAN Smart Electrical Panel Upgrade
The latest addition to the sustainable energy system, the SPAN Smart Electrical Panel, allows homeowners to take the most control of their energy use by turning on and off electrical circuits from their smartphone. It intelligently manages solar energy production and battery storage and creates a more optimal way of organizing energy use. Circuits can be categorized by Must Have, Nice To Have, and Not Essential to make it easier to turn off and on circuits as energy is needed. Since appliances can continually use electricity when plugged into outlets, even while they're not on, this feature can greatly reduce unnecessary energy consumption and further reduce energy bills.
Additional Future-Proofing Methods
To further take charge of energy expenses and invest in creating a future-proof home, here are more money-saving tips to combat increasing energy rates:
Upgrade appliances to energy-efficient alternatives and switch to LED lighting to reduce electricity use
Install smart thermostats that adjust temperature settings automatically, which can be especially helpful in reducing energy use when no one is home
Inspect walls, ceilings, and windows for opportunities to improve insulations to reduce cooling needs in the summer and prevent heat loss in the winter
As energy rates continue to climb year after year, homeowners can rest assured that there are steps they can take to keep electricity costs down and overall reduce their dependency on the power grid. While adopting the entire sustainable energy package will provide the most control and increase the efficiency of a solar-powered home, taking advantage of any of these green energy options can have a positive impact on your home, your wallet, and the planet.
To shield your home from rising energy rates and get a free quote, contact the team at SUNation Energy at 631-750-9454.