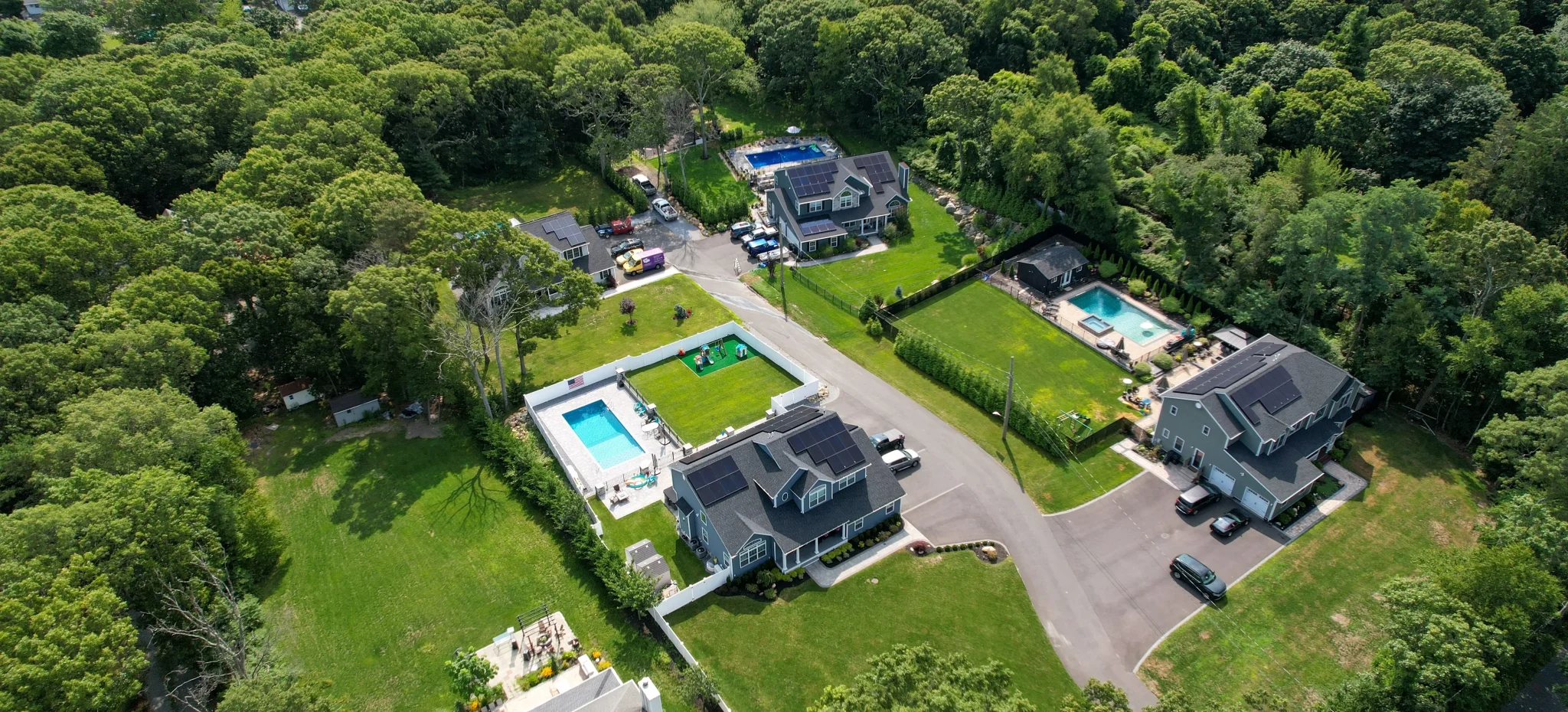 If you're driving around Long Island and are seeing more and more of your neighbors going solar, know that it isn't a fad. It's here to stay. With solar savings opportunities, current tax incentives, and more, Nassau County and Suffolk County homeowners are discovering the advantages of solar energy, and they're reaping the benefits.
It's no secret that solar energy is good for the environment. This clean form of energy not only decreases reliance on the power grid and reduces pollution, but is also a renewable source of energy that runs without the use of fossil fuels to power your home.
In addition to decreasing pollution to help the planet, solar homeowners are also decreasing their energy bills and finding even more advantages to powering their homes with the sun.
1. Opportunities To Save Money With Solar Energy
Year after year electricity bills continue to rise on the island and put a strain on homeowners' wallets, but solar panels on your rooftop can help.
When you make the switch to solar energy, you open the door to substantial long-term savings on your utility's electric bills by decreasing your reliance on the power grid. Instead of getting stuck paying the increasing electricity rates, you pay for the difference between the energy you use and the energy you create, giving you more control over your monthly energy bills.
How Net Metering Works
Long Island homeowners who go solar see year-long savings, not just during the seasons with longer daylight hours. That's because of a process called Net Metering. On days when your solar energy system generates more electricity than your home is using, you'll bank energy credits with the utility company. Then, on days when you're using more energy than you're creating, like the shorter Winter days, you can use those credits to help balance out your bill and cover the energy use. You'll then get billed the difference plus a small connection fee, a significantly smaller amount than what you would pay without solar.
Additional Solar Savings
Thanks to current federal and New York State incentives, going solar has never been more affordable. Long Islanders who make the switch to solar may now qualify for a:
30% Federal Tax Credit
New York State Tax Credit Up to $5,000
The best part is, you don't have to choose. Qualifying homeowners can take advantage of both tax credit incentives for the greatest opportunity to save. Please consult with your tax advisor or accountant to determine if these solar tax credits would benefit you.
2. Clean Energy Products Easily Integrated In Solar Array
When you get solar panels installed on your home's roof, your renewable energy system can seamlessly integrate with cutting-edge technologies that enhance your energy efficiency and control.
SPAN Smart Electrical Panel
One way homeowners can take more control over their solar-powered home is with the  SPAN Smart Electrical Panel. This state-of-the-art panel is an upgrade from your current electrical panel and, with a direct connection to your mobile device, gives you the power to control your electrical circuits from the palm of your hand. Each circuit now becomes a connected circuit and provides the flexibility to turn them on or off whether you're home or on vacation.
Through the app you can track how your home uses your solar energy and see which appliances or circuits take up the most energy and power them off when not in use to save energy and money. Then when you're ready to use that circuit, all it takes is the click of a button from your phone. Learn how you can use the SPAN Smart Electrical Panel to automate your home's energy to get the most use out of your solar energy.
Tesla Powerwall Energy Storage Batteries
If your home has ever experienced a loss of power, adding on Tesla Powerwall batteries can make this experience a thing of the past. When coupled with your solar panels, it efficiently stores excess energy for use in the event of a power outage when the utility's grid goes down.
When your neighbors lose power, you'll get an automatic alert on your mobile device notifying you that your Tesla Powerwall energy storage batteries are already powering your home. The change is seamless, safe, quiet, and unlike noisy gas generators, you don't need to be home to back up your electricity. When the sun is out, your solar energy system can work to recharge your batteries for continued use until the power grid is turned back on.
Electric Vehicle Chargers
When you own an electric vehicle, integrating an EV charger with your solar system is both convenient and cost-effective. This dual-purpose setup not only lets you conveniently charge your EV with clean, renewable energy, but also yields significant long-term savings since you can skip the public charging stations and their changing costs. It's a win-win arrangement that not only reduces your carbon footprint, but also bolsters your financial savings while underlining the versatility and compatibility of solar energy with advanced technologies.
3. Solar Energy is Beneficial During All Seasons
While it's true that solar panels perform optimally under direct sunlight, they also generate electricity even on cloudy or overcast days all year long. This adaptability means that solar energy remains a consistent and dependable source of clean power, no matter the weather conditions or the season.
The best season to generate solar energy is in the Spring. During this time of year, your home's energy use will be low and the daylight hours get longer, giving your solar panels more time to absorb sunlight to convert into electricity.
However, even when the days start getting shorter, your solar energy system is still hard at work powering your home and saving you money. During cloudy, rainy, or even snowy days, sunlight is still able to penetrate the clouds and reach the solar panels to create clean electricity.
If your home is using more energy than your system is producing at this time, that is when the Net Metering energy credits come into play. By taking advantage of the excess energy the solar array created before, homeowners can still off-set their monthly electricity bills and see significant savings. Every season is a good season for solar.
4. Going Solar Increases Home Value On Long Island
Choosing solar energy is both an environmentally responsible and financially savvy decision, and it's having a profound impact on Long Island's real estate landscape. Homes equipped with solar energy systems are not only reaping the societal and economic benefits, but also gaining a significant edge in the real estate market.
Homes on Long Island with purchased solar panel systems not only sell at a higher value, but faster. A recent study showed homes with solar sold 20% faster than those without solar and at prices up to 4% higher. Buyers are looking for ways to save and a home with guaranteed low energy bills along with a positive environmental impact generates a lot of interest. If moving is in your future, a solar installation can be a worthwhile investment.
5. Long-Term Solar Energy Support
When considering making the switch to solar, an important factor to consider is what happens after your system is installed. Should your array need troubleshooting or you would like to add on to your system after getting an electric vehicle to cover the increase in energy use, companies like SUNation can provide support seven days a week to assist customers throughout the lifespan of their system.
SUNation Energy's Service Department consists of friendly professionals who are available to answer questions, monitor customers' solar arrays, and provide other necessary support so homeowners aren't left in the dark.
The are many advantages to going solar and all it takes to get started is a click or a phone call.
For more information about going solar in Nassau County, Suffolk County, and Long Island, contact SUNation Energy today. Our dedicated team of experts is here to guide you every step of the way, and help you enjoy the benefits of running on solar.