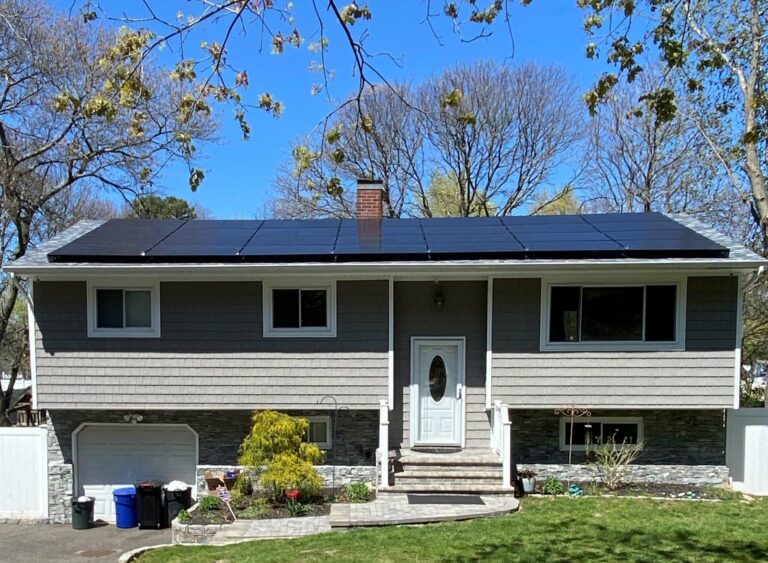 Whether you're planning to stay in your home long-term or are thinking of moving in the future, adding solar panels to your home can increase your home's value when you own your solar energy system. Sustainable energy from the sun not only works to decrease your monthly energy bills, but can help improve curb appeal and draw in interested buyers if you are, in fact, considering moving.
There is often the misconception that having solar panels will ruin curb appeal or decrease your home's value. It's just the opposite. With the increased interest in clean, sustainable energy, more home buyers are looking for homes with solar panels already installed. As technology for solar panels advances, so too does the sleek look of the panels to enhance your roof, not detract from it. For darker asphalt roofs especially, the black-on-black style is an ideal choice.
Owning Your Solar Panels
To get the most value out of your solar, you'll want to own your solar energy system, not lease it. This means the solar panels are yours and once paid off in full, you can kick back and focus on your monthly energy savings. This holds true for when you're selling your home. Whoever signs the contract is the one responsible for paying, not the new homeowner. This can be a very appealing draw for buyers looking for a home with solar panels included.
What Impacts Your Home's Value With Solar?
Location of the Home: Solar installed in areas with active solar production will increase home value more than those in areas that don't produce well. Here in New York, we're in a perfect position to generate plenty of solar energy. Solar panels are typically installed on South-facing roofs since that side gets the most sun. Depending on which way your home faces, you could have solar on the front or back of the house.
Size of the Installation: The larger the solar installation and quality of the solar panels, the more your home's value will increase. This will be determined by the home's average energy use and the size of you roof to maximize power generation and cut energy costs.
Pre-solar home value: Larger homes may receive higher than nominal boosts in property value, especially if renovations were recently completed.
How Much Will You Home's Value Increase With Solar?
According to a 2019 Zillow research study, home values can increase an average of 4.1% with an owned solar installation. In New York City, that value goes up to 5.4%.
What does this mean if you're selling your home? Trends have shown that your home can sell faster at a higher asking price. Homes with solar panels in New York can sell for an average of 3.6% more, or $10,981 more, than those without. This can allow sellers to recoup the costs of their solar installation. Solar homes also sold on average 20% faster than those without solar.
What if you plan on staying in your new solar-powered home? You may be eligible to take advantage of tax credits and exemptions. When you go solar in 2022, for example, you can quality for a 26% Federal tax credit and a New York tax credit up to $5,000. You'll also enjoy monthly savings as your energy bills drop. In some cases, SUNation solar customers have eliminated their electricity bills altogether. Savings amounts will vary depending on the size of the solar energy system, energy use by the home owner, and energy production.
Add a New Roof or Roof Repairs for Additional Value
A new roof can not only add value to your home, but save you time and money in the long run. Since asphalt shingle roofing typically needs to be replaced every 15 years or so, you'll need to determine how old your roof is before your solar installation and what condition it's in. With SUNation Energy, our team can help assess whether your home is good for solar as is or provide roofing recommendations to ensure your roof is in the best condition to support your new solar panel system.
If you're looking to sell your home, roof replacement or repair may be something you'll need to tackle before you list your home. According to a recent Zillow study, about 18% of home sellers either replace or repair their roofs before selling. Those that did saw a return on investment (ROI) of about 68.2% but that can vary depending on the project. By getting your roofing and solar projects done together, you can create a stronger selling point for your home at a higher value.
Add Value With SUNation Energy
Installing solar panels with SUNation is one of the safest and wisest investments you can make. Complete with a 25+ year warranty and with our friendly and helpful SUNation Service Department, we'll help you get the most out of your solar panels whether you're staying in your new solar home or looking to sell.
Ask our team how you can save with solar and add value to your home with residential solar by calling 631-750-9454 or booking an appointment online.