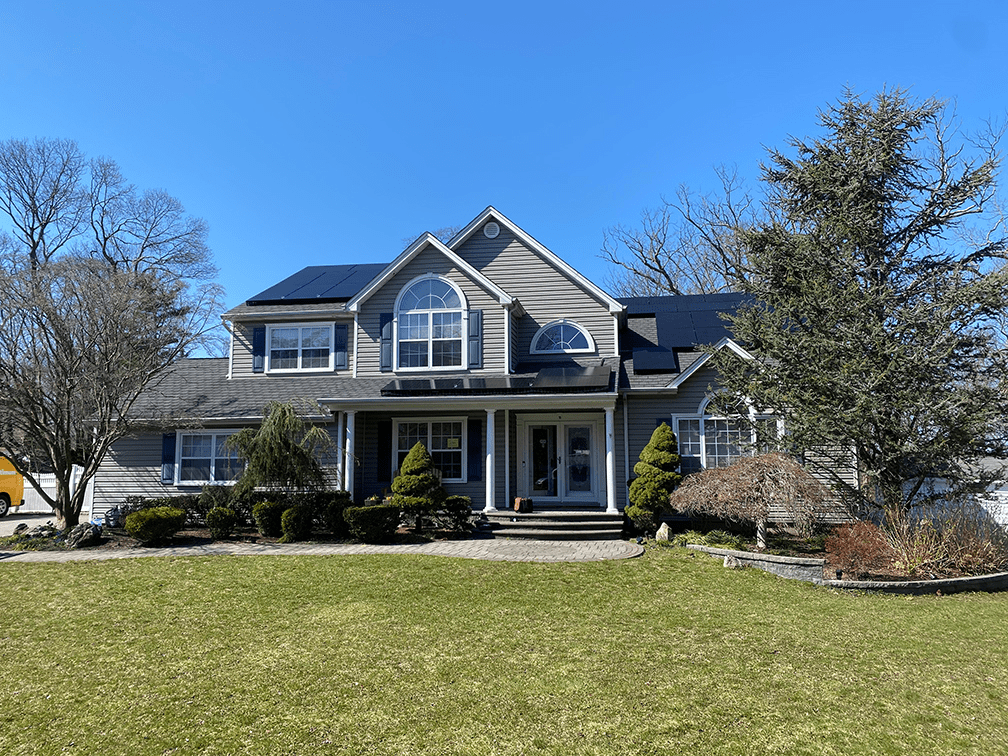 If you're in the market for a new home, you'll want to pay special attention to houses already equipped with their own solar panels. In addition to being sustainable and environmentally friendly, these homes have been hot on the market, and for good reason. Solar energy adds value to your home while also saving you money over time.
Before you make that offer on the next solar home you see, there are a few things you should know and a few tips on what questions to ask when buying a home with solar.
Why Move into a House with Solar Panels?
There are two big advantages to moving into a home with a solar system. The first is the ability to save money with sustainable energy. By running on solar energy, you can decrease or even eliminate your monthly electric bill, depending on your energy use and the solar panels' energy production. You'll also be reducing reliance on the power grid which helps to decrease carbon emissions and help fight climate change. You'll be saving the planet while saving money at the same time.
The second advantage is being able to use your solar system much faster than if you were starting from the very beginning. With the solar panels already installed, you can skip the research, consultation, and installation process and start producing sustainable, clean energy without the typical 3-month period it takes between signing the initial solar contract and getting installed. Take out the hassle with a system that's already been proven to work and is ready to work for you.
Important Questions to Ask
Is the solar system owned or leased?
One of the first questions you'll want to ask is whether the solar panels are owned and paid for, or if they're leased. If the system is leased, there may be different options for payment and financing depending on the type of lease and the company.  If the solar system is owned by the homeowner, that person is responsible for paying for the system, not you. If purchasing a home with owned solar panels, like the kind SUNation Solar installs, it is up to the person who signed the solar agreement for the system in the first place to pay. As the new homeowner, you won't have to pay extra for the panels after you purchase the home.
Who installed the solar system? What does it come with?
This is important to know, whether leased or owned, for who to contact if any questions arise or if any service is needed. Businesses like SUNation Solar come with SUNation Service which is available to assist with any questions, production concerns, add-ons like solar storage, EV chargers, and more. You'll also want to know if you're responsible for keeping an eye on your solar panel production or if that's covered by the company. SUNation, for example, offers a Guardian Program that remotely checks if the system is on and operating and contacts homeowners if any maintenance or troubleshooting is needed. This is typically something homeowners are responsible for doing themselves so it's good to know what you're responsible for and what the solar company is responsible for.
When was the solar installation done?
Solar panels come backed with a 25-year warranty so knowing how old the panels are on your potentially new home is important. Panels nearing the 25-year mark, or those that have surpassed it, may need to be replaced down the road so you'll want to be prepared if that's the case.
How old is the roof?
Similarly, you'll want to know the age and condition of the roof before you make an offer. While this is something you would look into anyway, it's especially important when solar panels are involved. Even if you have a brand new solar system installed, if the roof is in poor condition there will be costs in removing and reinstalling the solar panels in addition to the cost of fixing or replacing your roof.
How much energy does the system produce?
While you and your family may have different energy needs than the current homeowner, it's a good idea to get an estimate on how much energy the solar system produces and compare it to your current energy use. Factors like sunlight exposure and shading can impact production so be mindful of the home's surroundings and if any additional work needs to be done to increase productivity.
Solar Homes Going Fast
When you do find a home with solar you like that meets your energy needs, and especially one that won't require a replacement any time soon, don't sit on it for too long. According to a report from the National Renewable Energy Laboratory, . More buyers are recognizing the value in solar energy and consider energy efficiency when making their home purchases.
Work with a Realtor Who Knows Solar
If you're especially set on buying a house with solar, work with a realtor who knows the ins and outs of solar energy. Ask your realtor what experience they have with home solar or any certifications they may have on the subject. Working with someone who knows what to look for and what additional questions to ask can make all the difference in creating a positive home buying experience for you and your family.
If you're interested in purchasing a home with solar installed by SUNation Solar Systems and have questions, don't hesitate to contact our Service Department at 631-750-9454, option 2, or email [email protected]. We're here to help for as long as you have your SUNation system.