With the cost of solar panel installation at an all-time low and panel efficiency at an all-time high, now is the perfect time to invest in solar power for your home. Modern home solar systems are reliable and sustainable sources of electricity, last for several decades, and help you decrease or even eliminate your monthly energy bill.
The first step on your solar journey is determining whether your home is a good candidate for solar installation. By doing your research ahead of time, you'll have a better idea of what to expect in terms of the latest solar technology, financial incentives, and qualifying requirements for your home. Having a good credit score and little to no rooftop shade certainly help, but they're not the only factors when determining if solar will work for your home.
Your Energy Use
The first question most homeowners have when investing in a solar installation, often the biggest factor, is whether their system will save them money. The answer largely depends on how much energy your home uses and what your average monthly energy bills are. Typically, homeowners who have solar power see a drastic decrease in their monthly energy bills with some eliminating these bills altogether.
It's recommended that your energy use be high enough to help offset the cost of installation for the best possible return on investment. If your home is constantly using electricity for appliances, entertainment, business use, or even just air conditioning in the summer, you're likely a good candidate for solar energy. It's important to note that energy use will fluctuate throughout the year depending on your lifestyle, habits, and even the weather. When calculating your solar savings, don't just pay attention to your electricity use during the summer months when electricity consumption is at its highest nationwide. One of our Long Island solar specialists can help you calculate your average energy use and help determine what your projected savings will be.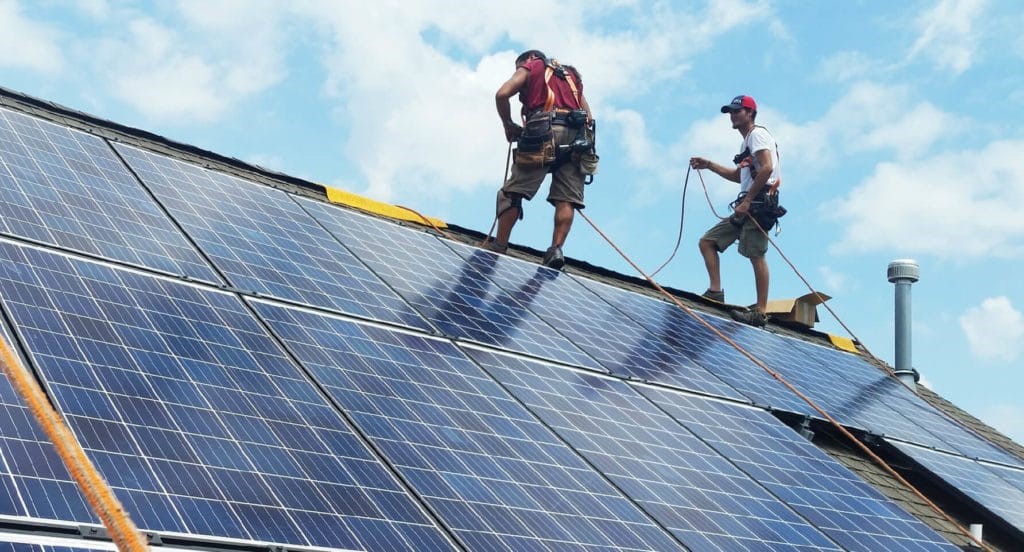 Roof Position and Condition
 In order to get the most amount of energy for your home, your solar panels should be positioned in an optimal way to absorb sunlight. A solar panel that hardly gets direct sunlight isn't going to produce as much energy as those that do. Because of this, the best candidates for home solar systems tend to have roofs that are oriented towards the south or southwest at about 30–45-degree angles, where they'll catch the most sunlight year-round. SUNation does work with homeowners to determine whether maximum efficiency can also be achieved with east- and west-facing panels, but south and southwest are optimal for homeowners here on Long Island.
The condition of your roof also plays a large factor in determining whether solar panels can be fully supported throughout their lifetime. Asphalt shingle roofing, the most common material for roofs locally, usually needs to be replaced around every 15 years. If your roof is 15 years or older, or otherwise in poor condition, getting your roof repaired or replaced may need to happen prior to your solar installation. SUNation Solar can provide recommendations from our partners to create a seamless roof and solar installation process to maximize the longevity of your system.
Long Island Climate Conditions
 While solar panels work the best in direct sunlight, they can produce energy in all kinds of weather. Similar to how your energy use will fluctuate throughout the year, the amount of energy your solar system will produce will also change, depending on the weather. Modern solar panels have the ability to convert both direct and indirect sunlight, including improved shade tolerance which allows panels to continue producing high amounts of energy even partial shade. Here on Long Island, we don't just have shade to contend with, but rain, snow, and the occasional tropical storm.
From our office on Long Island, we typically see up to 16 hours of daylight during the summer months and as little as nine hours during the winter months. So long as your solar panels are absorbing sunlight, even on overcast days, they will still produce energy for your home here in New York.
Available Solar Incentives
 If you're a first-time solar customer in New York, you can qualify for not just federal tax credits, but state tax credits as well. Currently, the 26% federal solar investment tax credit (ITC) has been extended through the end of 2022. In December 2020, a $1.4 trillion federal budget plan was passed to include this tax credit which was supposed to decrease in 2021. Due to this extension, New York homeowners can still get money back on installation costs through 2023 at the current rate before being reduced to 22% by 2023. This savings will come in the form of a deduction in the total amount of owed taxes.
As a New York homeowner, you can also benefit from 0% sales tax from solar electric systems and a 25% personal tax credit up to $5,000. To qualify, eligible system sizes can go up to 25 kW for residential homes and 50kW for systems own by a condominium or cooperative house association.
As the price for solar becomes more affordable nationwide, these solar incentives are likely to decrease. Therefore, when determining whether your house is a good candidate for solar, it's better to act now.
Contact a SUNation Solar Specialist
 Of course, the best way to see if your home qualifies for solar panel installation is to speak directly to a SUNation Solar Specialist. Talk to local Long Islanders who know the area and know solar who can walk you through the installation process. The sooner you sign up, the sooner you can see monthly savings and start using clean, renewable energy.
Don't qualify for home solar? SUNation's Community Solar Program may be the answer! Subscribe to solar access from an off-site solar system to still see monthly savings. This is also an ideal option for renters. All you need is a PSEGLI bill in your name.
Consult Your Home Solar Checklist
Moderate to high energy use annually
South or southwest facing roof
Roof in good condition, or willingness to repair/replace your roof
Good sunlight exposure and weather conditions
Qualify for federal and New York solar incentives
Congratulations! Your next step is to contact our team at SUNation Solar Systems and we'll get you started on your solar journey. Call us at 631-750-9454 or book a free consultation online at SUNation.com/book-a-consultation.