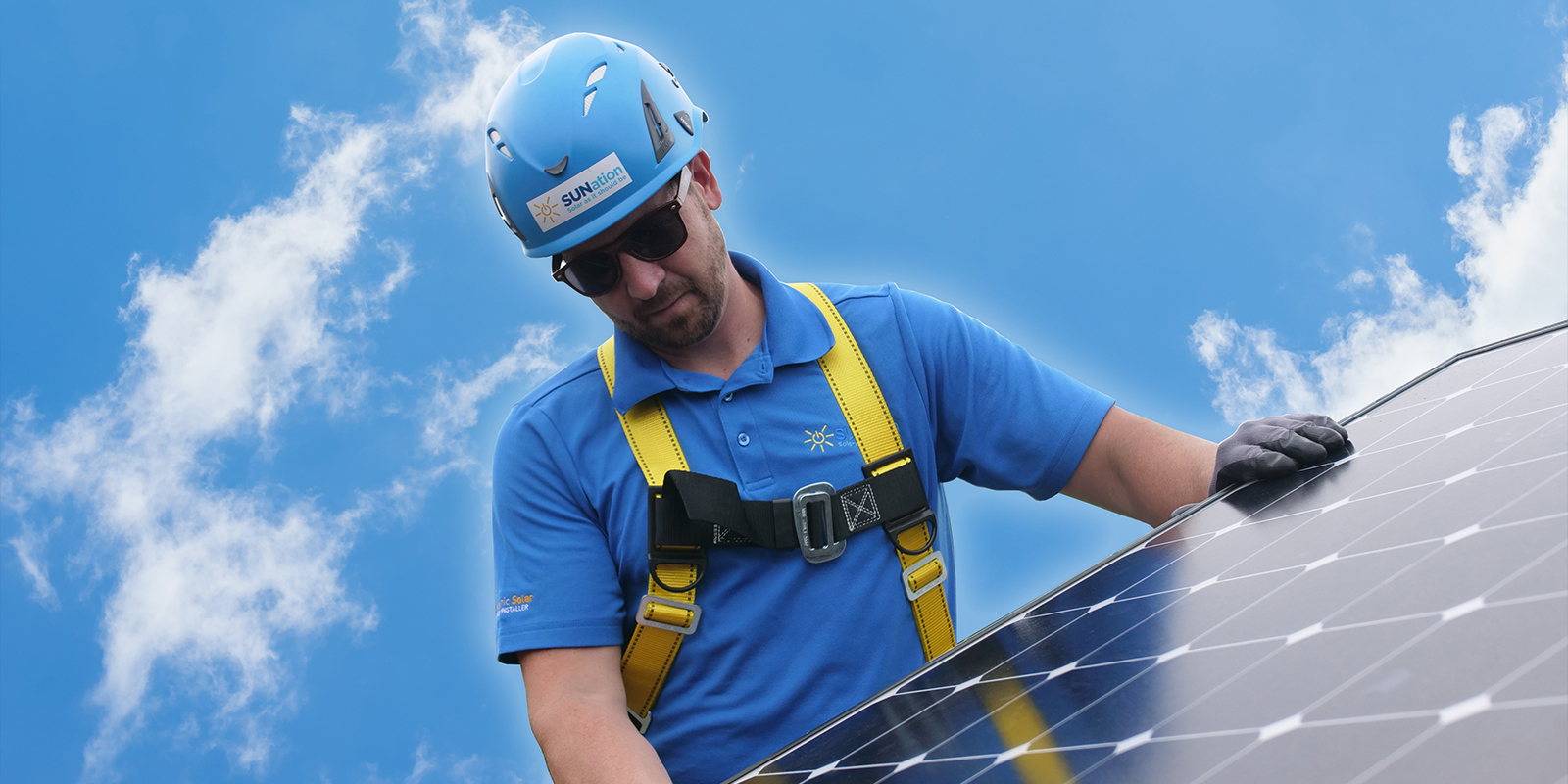 If you're interested in a rewarding and sustainable career, let us shine a light on the benefits of a career in the solar industry. Solar energy is here to stay. With more states around the country focusing on clean energy and protecting the environment, New York included with its goal to install 10GW of solar energy by 2030 by Gov. Kathy Hochul, D., there's so much potential in the field of solar for job seekers.
As the demand for solar installations increases, the need for workers in the solar industry continues to grow. According to the U.S. Bureau of Labor Statistics, solar photovoltaic (PV) installer jobs alone are projected to grow 52% from 2020-2030.
With more opportunities for you to get in on the ground floor, or roof, of solar, here are a few reasons why we love working in the solar industry, and why we think you'll love it, too.
1. Helping our neighbors save on their energy bills
One of the biggest reasons why our SUNation customers switch to solar energy is because of all the energy savings they receive. Homeowners with solar can expect to see a sharp decrease in their monthly electricity bill, and sometimes see those bills disappear altogether. By working in the solar industry, we're helping our neighbors keep more of their hard-earned money in their pockets.
We love hearing from our customers how low their bills are or what they've been able to do with all the money they save. Solar energy doesn't just help the planet, it helps people. Being a part of that effort is its own reward, and one we take a lot of pride in.
2. Helping the environment by reducing reliance on fossil fuels
As more homeowners, and even businesses, get their energy needs from the sun, they're relying less on fossil fuels and having a positive impact on the environment. When fossil fuels are burned, they emit greenhouse gases which is a contributing factor to climate change. With each solar installation, we're working to combat climate change and make a difference in the work we do.
We believe in what we do so strongly that plenty of our employees are also SUNation customers. Whether we have solar panels on our roofs or take advantage of SUNation's Community Solar Program, we're happy to play our part to help the environment. A career in solar is your chance to promote a more sustainable future and do something good for the planet.
3. A growing solar industry means job stability
While some industries are struggling to keep employees and others are forced to implement mass layoffs, the solar industry is going strong. With demand for solar energy increasing each year, and both federal and state tax credits making the switch to solar more affordable than ever, it's a safe bet that we're here to stay. Our team at SUNation includes employees and leaders who have been with the company for over 15 years out of the company's 19-year history.
In fact, SUNation is even considered an essential business so there will always be work to do, even when other businesses are shutting down. Some companies may come and go with this or that trend, but solar energy provides some job security for those who are willing to put in the work.
4. Opportunities for growth and advancement
Since the solar industry isn't going anywhere, there's plenty of room to grow. More time working in solar, especially for the same company, can create opportunities to learn new skills as the industry evolves, gain expertise in your field, and move up to take on leadership positions. There's always something new to learn and we love how you can get your foot in the door as these job opportunities are being created.
In fact, many of our leadership team members at SUNation are the result of of internal promotions. Whether they started as interns, receptionists, or installers, they've grown with the company and are applying their experiences to lead their own teams.
5. Variety of solar job types
No matter your interest or level of education, there's a place for you in solar. Whether you went to college or trade school, you're looking for entry level or management work, whether you're bringing transferable skills with you or need on-the-job training for a new career path, there's something for everyone. Positions can include marketing, sales, customer service, engineering, finance, processing, installation and service, and so much more as the industry continues to evolve.
We especially love the different ways these jobs can contribute to the sustainable energy field. For example, SUNation works in both residential solar and commercial solar installations, we're a Certified Tesla Powerwall Installer for backup energy storage, we sell and install home EV chargers, and have a dedicated SUNation Service Department ready to assist our customers. There's more than one way to be sustainable and we appreciate the different ways we can all work together towards the same goal.
We love working in the solar energy industry and look forward to seeing where this industry will go. If you're on Long Island and are looking for a career in solar, visit our Careers page for a list of our job openings. Where will a career in solar take you?