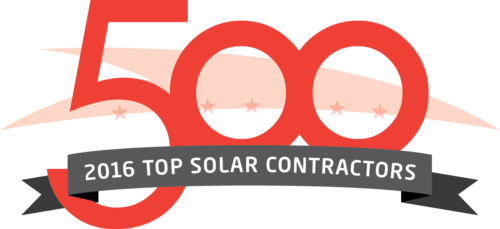 Solar Power World, the industry's leading business-to-business publication, today announced the release of its 2016 Top 500 Solar Contractors list and SUNation Solar Systems is in the Top 5 in all of New York State and #1 on Long Island.  In the overall Top 500 list, SUNation moved up to #128 from previously holding the #171 spot in 2015.  SUNation was also ranked #35 on the Top Solar Residential Contractors list and #29 on the Top Solar Developers list.  The Top Solar Contractors list is the most recognized annual listing of North America's top solar contractors working in the utility, commercial and residential markets.
Companies are grouped and listed by specific service (construction firms, developers, electrical subcontractors, EPCs, rooftop contractors), markets (commercial, residential, utility) and states by 2015 installed capacity.
This year's Top Solar Contractors list, which is the fifth annual, includes 38 contractors that have appeared every year since 2012. Three of these companies—Monolith Solar Associates, Creative Energies Solar and Energy Independent Solutions—were profiled for the issue.
"We're immensely proud of this year's class of contractors—they're all doing great work—and we have a special place in our hearts for the companies that have been with us since the beginning," said Steven Bushong, associate editor of Solar Power World.
You can interact with the Top 500 Solar Contractors list many ways. Here are your options:
Contractors by market:
Contractors by service:
Contractors by selected states:
"The companies on this year's list exude solar-business brilliance, and they deserve to be recognized not only for being great companies but also for how their work positively impacts the environment," said Kathie Zipp, managing editor of Solar Power World. Solar energy is a renewable resource with great potential to significantly reduce greenhouse gas emissions, according to the Solar Energy Industries Association.
This year's cohort of contractors works amid a burgeoning business market. The U.S. solar market is expected to grow 119% this year, according to GTM Research.
Altogether, listed companies employed 133,707 people in 2015, up from 124,967 last year. While a majority of solar electricity is produced at large, utility-scale solar power plants, the greatest number of installation jobs are located with companies that service residential and commercial clients.
One such company is San Diego-based Palomar Solar, which was profiled for the Top Solar Contractors issue. The company has steadily grown year-over-year, from 12 employees in 2013 to 27 employees today.
Other interesting facts about the 2016 Top 500 Solar Contractors list include:
231 identified themselves as EPCs; 171 identified themselves as rooftop solar contractors
287 worked primarily in the residential market; 154 worked primarily in the commercial market
130 companies were headquartered in California
355 companies had at least one NABCEP-certified principal on staff
77% of companies reported doing most of their business within its state of headquarters
119 contractors reported have 10 or fewer employees; 236 reported having between 11 and 50
"No one can deny that local companies are supporting the growth of the industry," Zipp said. "Our Top Solar Contractors are the face of the industry—meeting homeowners and business leaders on doorsteps every day."
To ensure the quality of the list, Solar Power World again partnered with SolarReviews.com, the leading site for customer-generated reviews of solar installations and solar equipment, which offered analysis of businesses.
Also, Solar Power World again received input from a contractor advisory panel, listed below:
A1A Solar Contracting
Bithenergy
E Light Wind and Solar
Elemental Energy
Exact Solar
Greenbelt Solar
Helios Solar
Helix Electric
Intermountain Wind and Solar
Lighthouse Solar Hudson Valley
LightWave Solar
New England Clean Energy
Palomar Solar
Photonworks Engineering
Simply Solar Systems
Solar Energy World
Solar Impact
Solar Source
Sol-Up USA
SunHarvest Solar
Sunsense Solar
Tennessee Solar Solutions
Texas Solar Outfitters
Yes! Solar Solutions
Solar Power World extends a special thanks to our partner, SEIA.
Save