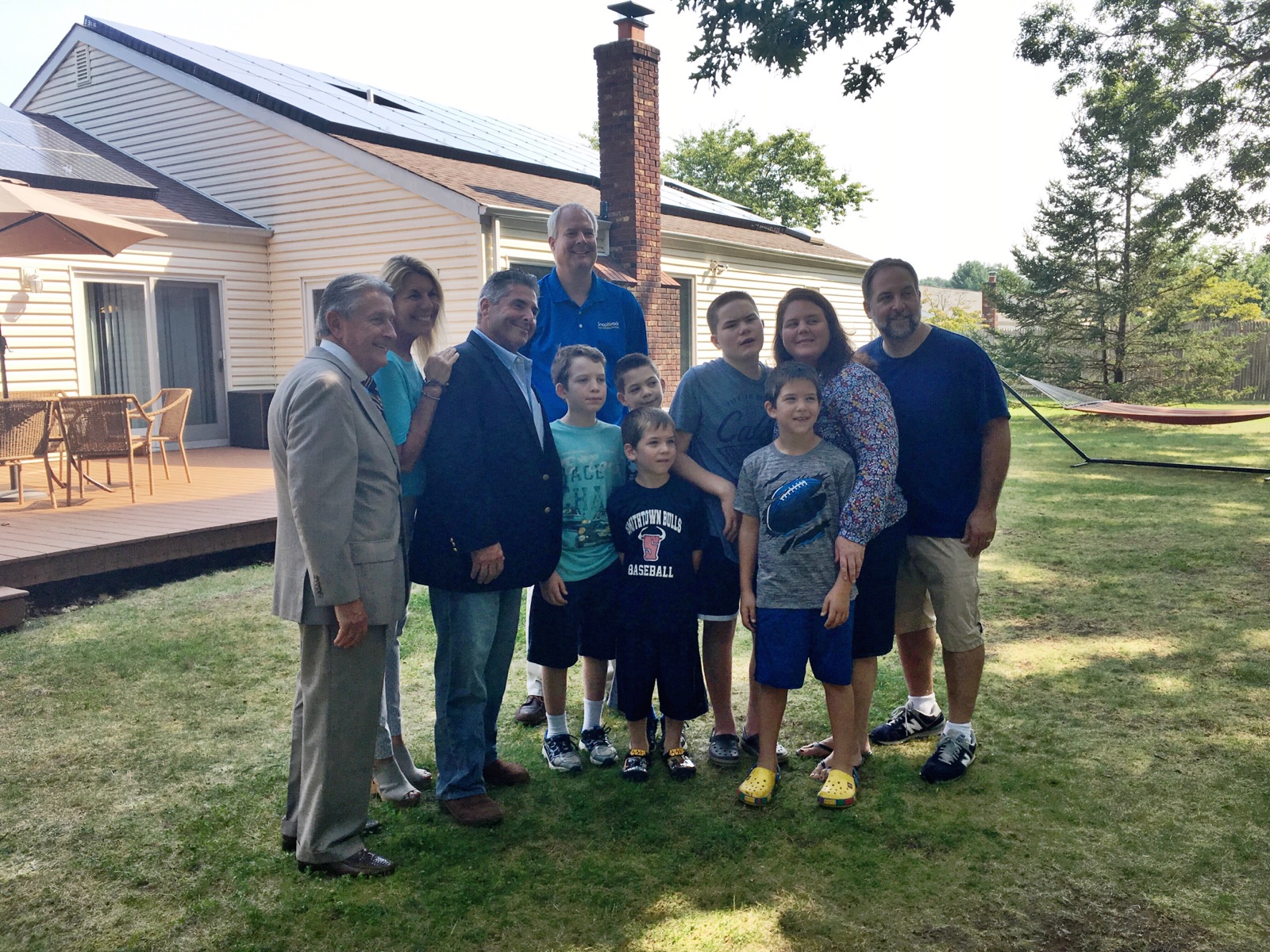 A free solar panel system will ease the financial burden on a St. James family with five sons, including one teenager with autism.
Eighty-four solar panels installed onto the Cusumano home are expected to essentially eliminate the family's monthly electricity bill. The extra cash will allow them to spend more money on therapy for their oldest son, Dylan Cusumano, 14, who has autism, his mother, Amy Cusumano, said.
"We're really overwhelmed by this gift," she said. "Now we'll have more money in the budget to go to care and therapy for Dylan."
The solar panel system cost about $50,000 and was donated by SUNation Cares, the not-for-profit arm of Ronkonkoma-based SUNation Solar Systems, according to the corporation's co-founder, Scott Maskin. The system is net metered and credits owners for the electricity they add to the grid.
Amy Cusumano, a Spanish teacher at Ward Melville High School, and her husband Nick Cusumano, a maintenance mechanic at a nursing home in St. James, spend more than $30,000 a year in out-of-pocket expenses for therapy and other services for Dylan, Amy Cusumano said.
The solar panel system should save the Cusumanos about $250 a month, which they put toward Dylan's therapy and to continue to regularly send Dylan to Pal-O-Mine Equestrian, a therapeutic horseback riding program for individuals with disabilities in Islandia.
Dylan has been riding at Pal-O-Mine since he was 5 years old. Being with his favorite horse, a light-brown mare named Ella, "puts him at peace," his mother said. He currently visits Pal-O-Mine once a week.
"He can be sensitive to light or sound," Amy Cusumano said. "But when he's with Ella, it's like a time out from all the things he deals with on a daily basis."
A few months ago, Maskin was introduced to Lisa Gatti, Executive Director of Pal-O-Mine, through Empire National Bank, where both organizations are clients. Maskin was searching for a family that could benefit from a solar panel system, and Gatti suggested he reach out to the Cusumanos.
"Raising five boys and also having one son with autism costs a small fortune," Gatti said. "The family's always demonstrated a huge commitment to helping Dylan and I thought they could benefit tremendously from this."
Reclaimed solar panels that had been used by past customers were installed on the home earlier this month and are currently operational, Maskin said.
The SUNation Cares program was created in 2016, and has benefitted five families so far.
"It's gonna be amazing, seeing every month now, that our electricity bill has just gone away," Amy Cusumano said.
Read full article on Newsday here