Ronkonkoma, NY – March 1, 2018 – Long Island-based SUNation Solar Systems, the premier provider of residential solar and commercial solar systems throughout the Long Island and New York City regions, has taken over operations of Energy By Choice effective February 1, 2018. Terms were not disclosed.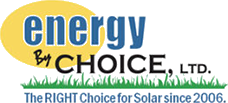 A premium solar Engineering Procurement and Construction (EPC) contractor serving residential and commercial customers throughout Long Island since 2006, Northport, NY-based Energy By Choice sought out the partnership with SUNation ensuring that their customer-base will receive the superior customer experience they deserve. Another deciding factor was SUNation's commitment to the Long Island community as exemplified by their assuming service responsibility for the customers of several national solar companies that abandoned the region in 2017.
"Once again, the market is shifting, and local companies focused on outstanding customer experience and high-quality installations are outpacing the national companies who are exiting the Long Island region," explained SUNation CEO Scott Maskin. "In 2017 we hit the tipping point as purchase-to-own systems outpaced leases and Power Purchase Agreement (PPA's). Brick & mortar companies like SUNation are routinely picking up the pieces as the nationals depart the region. Happily, the Long Island community is entrusting Long Island-based companies for an optimal solar experience."
Sail Van Nostrand explains his motivation for establishing this partnership.  "As a boutique solar contractor, we have found it increasingly difficult to adapt to the changing solar landscape and find it more difficult than ever before to remain competitive and relevant.  We are pleased to announce that we have taken steps to ensure our clients continue to receive the care, concern, quality and worry free solar experience as they have in the past.  SUNation is Long Island's most successful "home grown" solar contractor and I have enjoyed a strong personal relationship with the principals of SUNation for many years.  I'm excited to share this news as it ensures, continuity of the experience and an improvement in our responsiveness as SUNation's service group far exceeds what Energy by Choice could have accomplished on its own.
Steadily growing their market share both organically and through acquisitions, the agreement with Energy By Choice increases SUNation's customer base to over 7,500 residential, commercial and municipal installations totaling over 50 megawatts. "We are excited to welcome the EBC family into the SUNation family," said Mr. Maskin. "Energy by Choice has distinguished itself with a business model that fits seamlessly into our growth plans." Maskin added that as smaller solar providers find it increasingly difficult to keep pace with larger local and national competitors, consolidation of services offer the best solution for the end user and that EBC's existing clients will see a seamless transition as they join the existing SUNation service base.