Oceanside, NY – November 18, 2016 – Ronkonkoma-based SUNation Solar Systems' not-for-profit organization, SUNation Cares, turned on a donated solar system at the home of a deceased Long Island veteran's family today.  The award-winning company donated a complete rooftop solar-electric generating system and the gift of electricity for decades to come to the family of the late Thomas Howell III of Oceanside, NY.  Eileen Howell and her three sons suffered a tremendous loss this year when Thomas, a Marine with the USMC 6th Communications Division, tragically lost his battle with PTSD and took his own life this past February.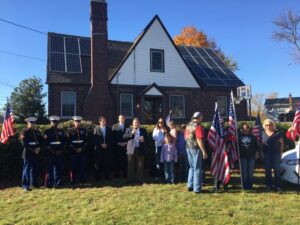 Dedication ceremony of the SUNation Cares donated solar system (from left to right: Marine Honor Guard, Senator Todd Kaminsky, Congressman Lee Zeldin, SUNation CEO Scott Maskin, Eileen Howell and family, Patriot Guard Riders)
On September 6th, SUNation Cares started accepting nominations for a veteran in need to receive a free rooftop solar PV system.  Many nominations were submitted and carefully evaluated based on their story as well as their eligibility to benefit from the system.
"Our entire team takes great pride in the fact that we are able to come together with industry partners to help this wonderful family," said Scott Maskin, Co-Founder and CEO of SUNation Solar Systems.
"When our soldiers return home, too often many are left without adequate resources to help them cope with the tragic effects of war.  We must do better for these heroes who have sacrificed so much to preserve our freedoms.  I thank SUNation Cares for their commitment to caring for our veterans and their families," said Senator Todd Kaminsky.
"We cannot do enough to honor the great sacrifices of the men and women serving our country," said Senator Tom Croci.  "SUNation's compassion for our Veterans and their generosity to the Howell family and is extraordinary and will go a long way to serve Thomas' family and honor the sacrifices he made for all."
"The sacrifices that our service men and women make for our safety and freedom is insurmountable," said Senator Phil Boyle.  "We are reminded, especially at this time of year, how thankful we are for all that our veterans have and continue to do for us.  I applaud SUNation for giving so generously to the Howell Family in recognition of Thomas' great sacrifice."
"After our service members return home, far too many of our nation's heroes struggle with the wounds of war. Caring for our veterans must always be a highest priority in our country. I thank SUNation for their efforts to help our veterans and veteran families," said Congressman Lee Zeldin.
"PSEG Long Island sees significant value in giving back to our communities, helping to enrich the quality of life across Long Island and in the Rockaways," said Michael Voltz, Director of Renewables and Energy Efficiency, PSEG Long Island.  "PSEG is proud to work with SUNation and support veterans and families like the Howells."
"With our core mission being to broaden the availability of clean, renewable solar energy, SolarEdge is proud to give back to the community by helping families go solar and reduce their electric bills," stated Peter Mathews, North America General Manager for SolarEdge.  "Our team is honored to be part of this effort to support the Howell family."
Through SUNation Cares, the Howells are gifted solar panels, labor, design and engineering services.  Other vendors have also donated their services and/or products including PSEG, Colgan Tree Service, SolarEdge, and SnapNrack.
In March 2016, SUNation Cares donated a solar system to the family of a disabled teenager in Atlantic Beach.  The non-profit organization plans on donating more solar systems this year and looks to expand in 2017 to help even more Long Island families in need.
SUNation have also continued their generous effort for the Howell family by setting up a GoFundMe site to raise funds for their remaining bills.  To donate, please visit www.gofundme.com/HelpTheHowellFamily.
Save