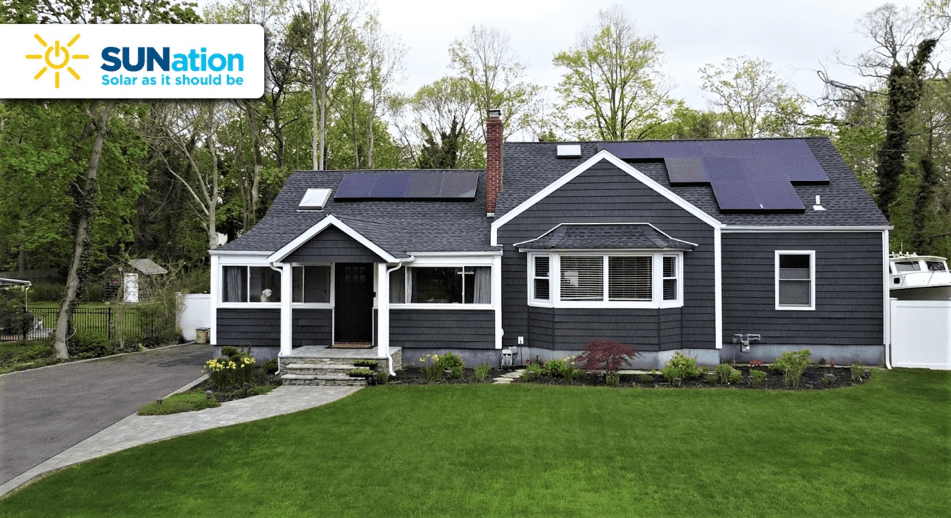 First, let's cover some statistics. Did you know that as of 2020, more than 230,000 Americans are employed in the solar industry at more than 10,000 companies across the United States? In 2020, 43% of all new electric capacity added to the grid came from solar, and the cost of solar installation has dropped by more than 70% over the last decade. So what does all this say? Well in short, it says that solar is without a doubt the future of renewable energy in this country.
However, that's not to say that solar is for everyone. Maybe not right now, but it is definitely worth your consideration. Depending on several factors, solar system installation may be a money saving investment for your home or business and a great way of negating your monthly electric bills and offsetting your home's energy use with clean power. It's understandable that the process of solar installation may seem daunting, but SUNation is here to guide you along this journey. Here are three easy steps to help you go solar.
Step 1: Determine if solar is the right move and explore your options.  
A solar power system can save a homeowner anywhere between nothing and several thousand dollars a year. This all depends on what models, brands, and configurations you choose to have installed, in addition to who you choose to handle the installation and how you decide to pay for it. Depending on your specific situation, the installation of solar panels on your home can add to your resale value.
If you are a homeowner, you are able to install virtually any solar option without having to obtain any further permission. However, if you are one of the approximately 100 million Americans that rent their home, you will most likely have to discuss options with your landlord as the decision is out of your hands. Luckily, you are still able to take part in the solar energy movement by joining a community solar program if one exists in your area.
The next thing to consider is where panels best fit on your property. Solar panels on a roof are common among homeowners but it's perfectly normal to be hesitant about this option. Even beyond the aesthetics issue, most homeowners' roofs are not big enough to support a system large enough to offset all their energy use. In these cases, roof panels still contribute significantly toward lowering annual energy costs and helping the environment – especially when combined with other solar options. It should also be noted that rooftop solar works best when facing south or west since these directions would obtain the most sunlight. If your roof is facing a different direction or is blocked by shade from tall trees or other buildings, it may be better to consider taking part in either community solar or ground mounted solar.
Although not as common, ground mounted solar systems are a good alternative to roof systems and come with several advantages. These types of systems are easier to install at an ideal angle for sunlight exposure than roof systems and, because of their location, are easier to install. Additionally, it's more likely that there is more available space for panels on the ground than on your roof. Therefore with this type of system, offsetting your total energy consumption is a much more obtainable reality.
Even if you plan on moving out of your home in the next five to ten years, it may still be worth it to install a solar panel system on your property. Numerous reputable research organizations have published data showing that owned solar power systems improve home values, including the Lawrence Berkeley National Laboratory, the FHA, the Appraiser's Institute and NY Sun Shot. As for the financial component of solar installation, incentives such as loans, tax credits, and accelerated depreciation may make installing solar a worthwhile investment.
Step 2: Read Reviews and choose the right Company 
Reading solar installation reviews may seem like a no brainer, but you'd be surprised at just how many people will choose a company based purely on pricing, with no regard to what past customers have said about their services. There are several other things you should be looking out for when choosing a company for your solar project.
First, take into consideration how long the company has been in business. A general rule of thumb is that the longer a company has been in business, the better and likely more reputable they are. Choosing a company that has been in business for a long time not only speaks to their abilities and level of expertise, but also the likelihood that they will be in business for years to come which will be convenient for you, the system owner, in the case of necessary repairs or warranty services in the future.
Second, it's best to go with a local company as, among other reasons, you are far more likely to receive services at lower costs than those of national companies. According to the National Renewable Energy Laboratory (NREL), local solar installers' pricing is an average of 10% lower than the national residential solar installers.
Additionally, national installers are known to use cheaper materials to maximize their profit margin. On the other hand, local installers tend to care more about customer satisfaction and will go the extra mile by using higher quality materials. A local solar provider also has an employee-employer culture that involves increased accountability since installers will most likely report to the owner of the company. This level of accountability is rarely seen in national companies where most of the work is actually contracted out to crews who are based  elsewhere. As a result, customers of local companies tend to require reduced repairs to their solar panel systems in the long run.
Step 3: Request a free consultation 
Most solar installation companies offer free consultations to help you assess which solar option would best suit your energy needs and property. During this consultation, whether virtual or in-house, you will likely be asked to answer several questions regarding your energy use to determine the necessary size of your solar panel system and an ideal layout for maximum efficiency in regards to your home's shape, size, and direction relative to the sun. In order to provide you with an accurate pricing quote, you may be asked to schedule a site evaluation and provide the company with your recent energy use statements.
Could SUNation be right for you? 
If you are looking for new ways to save money and be part of a global energy revolution, think solar. It's true that the abundance of providers and models can be intimidating for someone unfamiliar with the renewable energy market. But the good news is that it's easier than ever to research the possible benefits that solar can have on your home or business. This blog post is a great start. The next step is to book your free consultation with SUNation. In no time you will be on your way to affordable and sustainable energy consumption.
SUNation's goal is to deliver the very best products, workmanship, and service possible. It's a company that prides itself on professionalism and the highest level of customer experience possible. We're a local Long Island solar company that has been voted the Best Solar Business on Long Island for the 12th year in a row, and is a NYSERDA (New York Energy and Research Development Authority) Gold Status Quality Installer. With over 500 positive reviews on top rated sites such as Google, Angie's List, and Home Advisor and a consistent A+ rating from the Better Business Bureau, it's no surprise that SUNation continues to be the prime choice for Long Island businesses and homeowners looking to invest in solar energy.