No one enjoys stopping at the gas station, especially when you have to watch the price tick up. But those who drive electric cars don't have to face the pain at the pump, especially when they're able to charge their electric cars right at home. If you're considering getting a Tesla or another brand of electric car, you're likely curious about how to keep it charged up and ready to hit the road right from home.
How to Charge an Electric Car at Home
Charging your electric car doesn't have to be as complicated as it may seem. But there is one key piece of equipment you'll need: a charger. Most people who own electric cars, regardless of the make, will have wall chargers connected inside their garages or outside their homes for convenient, efficient, and eco-friendly power at any time.
How to Charge an Electric Car
When you first purchase your vehicle, you'll get a charger along with your purchase. Alternatively, you can choose to purchase a wall-mounted charger. You can contact the team at SUNation to come out and install your 220-volt receptacle wherever you plan to park and charge your car each day.
Your car will likely come with a Level 1 charger, but with SUNation, you'll be able to upgrade to a Level 2 charger. Level 1 chargers will usually provide 3 to 5 miles of charge per hour, while Level 2 chargers are much quicker at 12 to 80 miles of charge per hour. If you want to ensure your car is fully charged every single morning, it's best to invest in a Level 2 charger.
Your electric car can take you all around town without worrying about running out of power. Then, when you get home in the evenings, all you have to do is plug in your car! Your car will have a plug-in instead of a gas tank, but the process is largely the same as inserting a gas pump into a gas-powered vehicle. Once you've plugged in your car, it will take care of itself and will be fully charged by the next morning.
How to Charge a Tesla
If you have a Tesla, then there's an extra feature you may want to take advantage of. Tesla's allowyou to set a charging level to tell your car when to stop charging. Once this level is set, you can plug in your car as usual, and the car will automatically stop charging once it's reached your set level.
Wall Chargers vs. Superchargers
You've probably seen Tesla Superchargers around town, perhaps at your local grocery store or other businesses or government buildings nearby. Superchargers can be great resources when you're out on the road and need to "fill up," but what is the difference between these chargers and your typical wall charger?
First, Superchargers are much faster, as the name suggests. Generally, your standard wall charger will need several hours to provide you with a full charge, which is why it's best to plug your car in overnight. Superchargers, however, can give you 150 to 200 miles of additional charge within just 15 minutes.
So the obvious question is: "Can I just get a Supercharger for my home?" Superchargers are not available for home use, but there's a good reason for that. Superchargers can be convenient when you're on the road and you're worried about running low on charge. However, they're not meant to be used all the time. When you use Superchargers too often, your car's battery life can suffer and may not be able to hold a charge as well. So, use those chargers sparingly.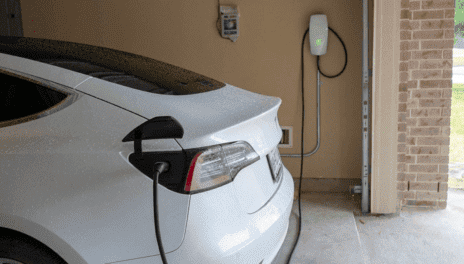 As more and more electric cars get on the road, those Supercharger stations around town are bound to get more crowded. The last thing you want is to run low on charge and have to wait for an available charger or search for a station before your battery runs out. That's why it's so important to invest in a top-quality Tesla EV wall charger at home, so you never have to worry about being stranded.
Common Electric Car Charging Questions
Electric cars are still relatively new, and there's still quite a bit of mystery around them. If you're considering purchasing an electric car or have just bought your first one, here are some common questions you might have.
How much does it cost to charge an electric car at home?
The cost you'll pay to charge your electric car will depend on several factors. The cost of electric charging can vary from state to state, as well as the time of day when you're charging. If you're charging during the peak hours of electricity use, you'll wind up paying more than you would by charging in the off-hours.
Are there other options besides wall chargers and Superchargers?
Wall chargers and Superchargers are the most obvious ways to charge your car, but they're not your only options. You can find Tesla "Destination Chargers" installed at thousands of businesses across North America. Often, these special chargers are found near businesses you would visit while traveling, such as hotels and restaurants.
On top of that, Tesla offers a mobile connector for your car. You can simply plug this charger into a standard outlet to get a few more miles on your car. However, this charger should be reserved for emergencies and should not serve as your everyday, go-to charger.
How much of a charge should I maintain in my car?
You might be tempted to charge your car to 100% battery every single night, but this charging method actually isn't the best for your vehicle. For optimal battery health, many manufacturers recommend keeping your car charged between 80% and 90%. That's where that special charging level feature can come in handy!
Keeping Your Lifestyle "Green" and "Smart"
Driving an electric car is an excellent way to maintain a lifestyle that's both eco-friendly and technologically advanced. Your Tesla can show you your charging history and your charge limits from right inside your car, allowing you to keep track of your driving habits and tailor your charging schedule to your needs. If you choose to purchase a ChargePoint charger, you can connect to the internet to adjust your charging schedule from anywhere in the world.
To stay even more connected, Tesla owners can download the Tesla app on their phones and track all their statistics at their fingertips. This ability mimics other "smart" devices you might have in your home, like your thermostat or video doorbells.
Many electric cars even connect with other "smart" technology you might have in your home, such as Amazon's Alexa or Google Assistant. Depending on the capabilities of your other smart devices, you may be able to control your thermostat, lights, security system, and more, all from your car or your smartphone.
SUNation offers convenient smart home packages to help you automate your technology and remain as efficient and eco-friendly as possible. The energy collected by your homes solar panels can also be used for charging your electric vehicle. Incorporating electric vehicle charging with solar energy is a sustainable way to cut costs, lower your carbon footprint, and increase convenience! On top of that, solar energy can help you save on your electric bill, add value to your home, and get clean energy for 30 years or more!
Get in touch with the SUNation team today to learn more about our solar panels, electric car chargers, and all the other incredible products available now.