Go Solar in staten island
Solar Energy In Staten Island!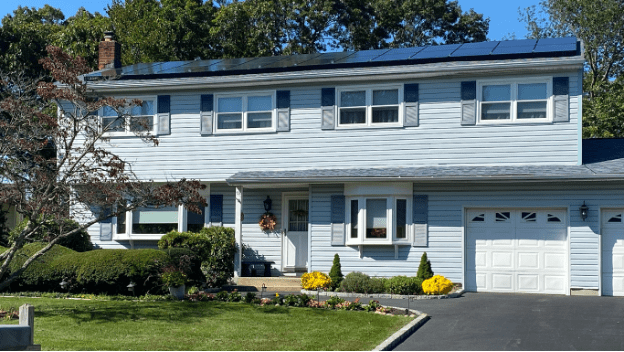 Suffolk County residents pay the highest utility costs on Long Island. To incentivize the region's investment in clean energy, state and federal municipalities offer tax credits and financing options to residents. Solar, a reliable and clean energy solution, offers Suffolk County homeowners the opportunity to experience lower utility costs and a more reliable source of power.
Why Go Solar On Staten Island
For the Staten Island community, switching to solar brings many benefits. Residents of the 60-square-mile island have learned that a clean energy system leads to significantly lower utility bills and prevents costly rate changes. Instead of generating energy from expensive and environmentally unfriendly fossil fuels, solar panels harness the affordable power generated by the sun.
Additionally, residents who deeply value the preservation of the borough's many idyllic parks are incentivized by a drastically reduced carbon footprint. Solar energy decreases the presence of greenhouse gas and other emissions that have proved damaging to the natural environment.
The National Renewable Energy Laboratory (NREL) studied the relationship between solar panel installation and home value. The results revealed a home value increase of $20 for every $1 saved on energy bills.
Staten Island's Commitment to Clean Energy
Boasting 170 idyllic parks equating to 12,300+ acres of protected land, Staten Island has earned the title of "the greenest borough." The region's commitment to environmental sustainability extends to its commitment to promoting clean energy solutions like solar.
The Staten Island community staunchly supports leveraging clean energy solutions to improve their local community. The borough is an active contributor to New York City's goal of generating 25 megawatts of solar power by 2025. The initiative was introduced by the New York Housing Department as part of HUD's Renew300 program. Its main focus is reaching public housing developments, but the program has extended to commercial properties, vacant land, and single-family homes.
Con Edison, Staten Island's utility provider, leads by example. The firm has pledged to reach net-zero emissions and 100% clean energy by 2040. Citing heavy investments in solar power, Con Edison has committed, by 2030, to solely use clean energy to power all facilities
Average Electricity Bills on Staten Island
The cost of electricity on Staten Island is, for many residents, overwhelmingly high. Prices are a whopping 62% higher than the state average and 51% higher than the national average. Homeowners spend $0.32/kWh, or roughly $0.13 more per kWh than other New York regions.
Cost of going solar on staten island
There is no one-size-fits-all approach to a system's installation or price structure. Each energy solution is designed to leverage the unique features of your Staten Island residence. Throughout the design process, our team examines energy needs, location, home characteristics, like roof slope, and other factors. The result is a fully customized, fully optimized energy solution aimed at providing you with the greatest return on your investment.
Available tax credits and financing
Staten Island homeowners are encouraged to offset the cost of their solar investment by taking advantage of available tax credits and financing options.
Many lucrative incentives exist: through 2032, qualified homeowners can claim a 30% Federal tax credit for owned solar panel systems. Residents may also receive a state solar tax credit of up to $5,000.
Thanks to a new program offered by the New York City Department of Finance, Staten Island residents can now claim 20% of their clean energy system costs as a property tax abatement. This opportunity, coined NYC Solar Property Tax Abatement, is available to both residential and commercial dwellings. Be sure to submit your application by March 15 so your tax abatement may be credited within the same calendar year. 
Staten island's solar experts
Trust our award-winning team to create a customized solar solution for your Staten Island home. Our growing company has assisted over 8,000 residents switch to solar. Let us help you take charge of your energy bills with a free customized quote. Contact a SUNation expert today.
INTERESTED IN LEARNING MORE?
Click the button below to get more information!