Go Solar in Pinellas County
Solar Energy In Pinellas County!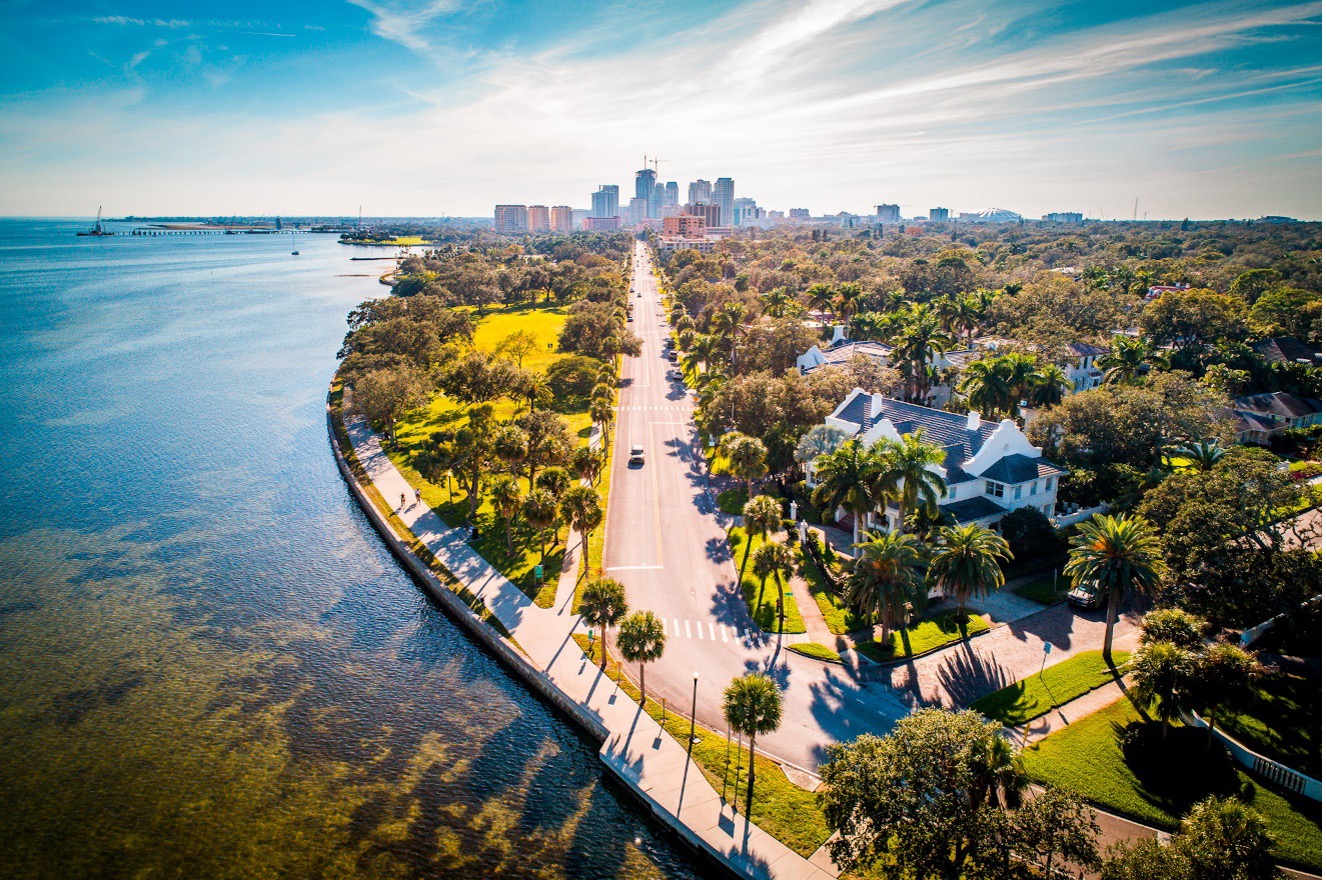 Pinellas County, the most densely populated county in Florida, is making the switch to solar. With all the great benefits this clean energy solution brings to both their homes and the natural environment, residents are more motivated than ever to harness the power of solar energy. This source of power is reliable, sustainable, and has become increasingly affordable. Pinellas County residents looking to lower their utility bills and reduce their carbon footprint are investing in this opportunity to create clean energy from their rooftops.
The Perks of Going Solar in St. Petersburg & Clearwater
With rising utility costs, St. Petersburg and Clearwater residents are motivated to harness the power of alternative energy solutions. The Sunshine State averages just about five hours of peak sunlight per day, making it the ideal location for solar energy generation. The abundance of sun in Pinellas County means an increase in power production, maximized return on investment, and protection against future utility price hikes.
Clearwater and St. Petersburg homes with owned solar panels on their rooftops can also experience an increase in market value. The Appraisal Journal estimates that, for every $1 reduction in yearly energy bills, a home's value can increase by an estimated $20. Solar systems have proven to be lucrative long-term investments that are sure to deliver major savings to Pinellas County residents.
Clean Energy in Pinellas County
Solar panels are popping up all over Pinellas County. The Downtown Central Energy plant recently underwent a massive solar installation project and solar panels now cover the facility's entire rooftop. The County has enacted its 100 Clean Energy Commitment, a resolution that sets several clean energy targets, many of which incorporate solar power. The plan calls upon all local governments to implement clean energy targets and policies into their planning processes. In fact, the 100 Clean Energy Commitment has an impressive goal of a countywide total transition to renewable energy by 2050. 
Optimize Solar and Storage to Avoid Power Loss in Pinellas County
Today's solar panels can withstand the varying Florida weather from heat to hurricanes and are built to last. Panels are waterproof and built to withstand winds of up to  140 miles per hour (mph). Winds of this speed are typically sustained in category 5 storms – the most powerful hurricanes. Even in these massive storms, , especially when installed by an experienced team of solar installation professionals.
When a solar system is paired with a backup battery like Tesla Powerwall, homeowners can also keep their power on even when the utility's power grid goes down. Heavy winds make the local grid increasingly vulnerable to going dark. It is common for utility poles to malfunction during such inclement weather. Power outages can last minutes or days, and can be problematic for families over time. Homes with solar and the Tesla Powerwall are protected against power outages with automatic, quiet, and safe backup energy to keep the lights on.
Tesla Powerwall energy storage batteries work by storing your solar panel system's excess energy and seamlessly turns on once the grid goes down. Homeowners will get an automatic alert through their free app notifying them when a storm is coming, that their battery is fully charged, and will indicate when the battery turns on. This allows the home to continue running essential appliances without the loud and sometimes dangerous gas generators. During the day, these Powerwall batteries can also recharge as the solar panels generate more energy. For homes prone to frequent power loss, this is a must-have addition to your renewable energy system.
Increased Utility Costs in St. Petersburg & Clearwater
With the price of fossil fuels and natural gas on an upward trend, St. Petersburg, Clearwater, and Pinellas County residents are seeing a steep rise in their utility costs. To make matters worse, prices are not expected to drop anytime soon. Rising inflation is putting a financial strain on many homeowners. Making the switch to solar is a great way to combat energy price hikes and maintain a fair state of predictability for home energy costs. To combat Florida's energy affordability crisis, harness the power of solar energy.
Average Electricity Bills in Pinellas County
On average, Pinellas County pays 17 cents per kilowatt-hour (kWh) per month. This figure is higher than both the state and national average. To save money on your monthly utility bill, consider introducing a solar energy solution to your home. 
Federal Tax Credits and Financing Opportunities
A whopping 30% federal solar tax credit is now available to homeowners who make the switch to solar. This lucrative savings opportunity can offset initial investment costs and optimize your immediate return on investment. We recommend looking into more local, state, and federal opportunities that can help you finance your home's solar system. As always, one should seek guidance from a trusted tax professional in order to receive the most accurate information available.
SUNation Serves Pinellas County
Our team is excited to serve the Pinellas County community. Here at SUNation, we are proud to introduce you to some of the industry's most knowledgeable sales teams and skilled solar technicians. We promise to provide St. Petersburg, Clearwater, and Pinellas County with the highest level of service. To find out more about solar panels available in your area, contact a member of the award-winning SUNation team today.
INTERESTED IN LEARNING MORE?
Click the button below to get more information!